Hoosier National Forest, Indiana
6/10/2005 UPDATE: THE JEEP TRAILS LISTED BELOW MAY OR MAY NOT BE LEGAL DUE TO LAND CLOSURE, I SUGGEST CHECKING WITH HNF FOREST OFFICE BEFORE GOING.
I began going to Hoosier National Forest when I was a kid in Cub Scouts (and later in Boy Scouts); hiking, camping, canoeing opportunities abound in Hoosier National Forest (HNF). Then when I began college some friends invited me to go wheeling with them in HNF. I wasn't even aware this was allowed, but I am glad that my friends obey all of the posted trail laws, and checked with the local US Forest Service office first. We had a blast and I've been wheeling there ever since, typically once or twice a year. The trails are fairly mild compared to what I'm used to, but you also get the chance to take a drive in the country and the wheeling is FREE unlike many of the ORV parks nowadays.

Below you will find maps of the area, and links to my photo collection from my trips to HNF: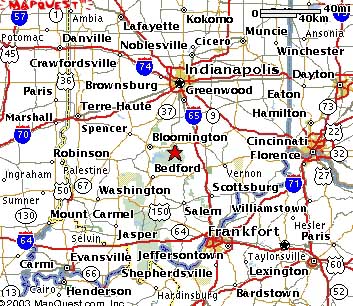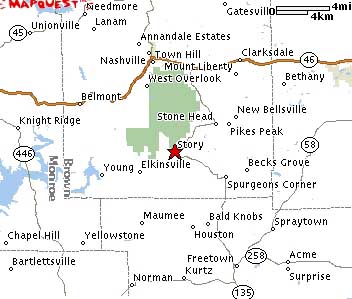 The thumbnail image below may be difficult to see details, but clicking on it will produce a high-resolution topographic image. Before clicking on the photo please note that the full sized version is 2780×1985 pixels in size and is 2.4MB in size. It should only take about 8-12 minutes to download if you are using a modem.

However, it's better (and cheaper) waiting on the download than spending an hour scanning and tracing your maps that you paid $6.36 apiece for. Enjoy and let me know if you find this map useful. Scroll down to read what the numbered points on this map are.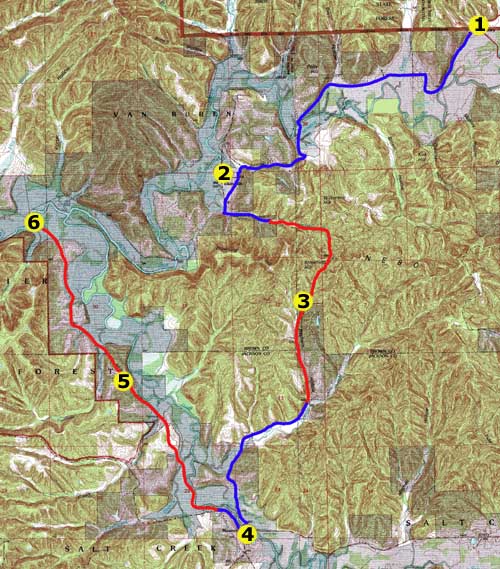 The thick blue lines are roads that can be travelled in a 2WD car almost anytime of the year. The thick red lines mark trails that require 4WD almost all of the time, depending on weather.
1. This is the town of Story, Indiana
2. The remains of Elkinsville, Indiana
3. The Jeeping Trail, aka Combs Road, HNF Run, etc.
4. A bridge, paved.
5. "Maumee Road", my friends and I call it the back half of Combs Rd.
6. Maumee Road dead ends at an old bridge that is gone.
---
Page created on 5/29/2003
Last updated on 6/10/2005