Choosing a Service Manual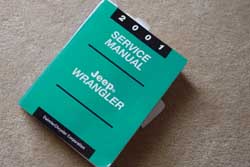 A question I often receive from readers is "What service manual is the best?" Any response to this question is of course purely opinionated, but let me present to you what I have learned through my experience. This will hopefully illustrate why I have made the decision to use only service manuals that the professional mechanics use.
I used to faithfully use the Haynes brand manual for any vehicle I owned. They are available at nearly any bookstore, auto parts store, and are rather inexpensive. The problem with a Haynes manual is that many of the processes are too briefly explained and if you haven't done a certain task before you are left helpless. The Chilton's manuals I have found are slightly more helpful than Haynes but are a little harder to find and they cost more money than a Haynes. There was a huge problem with both brands that ultimately led to my not using either one.
For my Trans Am (sold), I bought a copy of both the Haynes and Chiltons. For my engine, the spark plug firing order was listed differently in each manual. Since the spark plug firing order is so critical, I called each publisher and asked if there was a correction to this page and they each verified that the copy I had was the correct and current edition. It was at this point I tossed both Haynes and Chiltons in the trash and bought a factory service manual (FSM).
When I bought my Jeep, I found that to buy a Jeep FSM I had to order it from Daimler-Chrysler's Technical Authority online store. An FSM is about $100 but well worth it. My TJ manual weighs in at 1,635 pages versus 350 pages for a Chiltons. In addition, my FSM is specifically for my 2001 TJ, not for a range of years like Haynes and Chilton print. This is great because my manual is detailed for all of the items that are on my vehicle. With a Chilton or Haynes you sometimes find yourself following instructions that are written for a different model year and they don't apply to your model, thus wasting your time.
FSM Benefits over Haynes Chilton
Much greater details, allowing you to get the job done without a mechanic
Torque specification charts, torque listings
Fully detailed circuitry wiring schematics
Written by the auto-maker who designed the vehicle, not a third party who doesn't have access to engineering notes
For the most part this sums up my complaints with Haynes and Chilton. I really have to say that the FSM is a bargain at $100 seeing how I have been able to complete projects on my own. Had I been using a lesser manual, I would have possibly had to take my vehicle to the mechanic.
---
Page created on 7/16/2004
Last updated on 7/29/2004