Tires & Wheels
To date with this Jeep I have used 30" and 33" tires, both sets mounted on 15"×8" wheels. My wheels have been both cast steel and cast aluminum alloy. I have always been rather partial to Goodyear tires because they are a reputable company, and the quality has never been an issue for me. I have never had a defective product, or purchased a Goodyear product that I wish I hadn't. I do have some experience with Firestone & BF Goodrich tires. But since I have well over 250,000 miles logged on Goodyear with no failures or regret, I typically opt for Goodyear.
Read on to see how they have worked for me.
Factory Tires and Wheels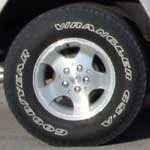 I am part of a large group of TJ owners whose Jeep came with the Canyon 30" Tire and Wheel Group from the factory. With that package the tires are Goodyear Wrangler GSA 30"×9.50" in size. The tires are then mounted on the cast aluminum-alloy Canyon wheels. Canyons have 5 tapered spokes and are 15" in diameter and have an 8" wide mounting surface; thus a 15"×8" wheel. The backspacing of the Canyon wheel is 5.5 inches (read: What is Backspacing?). This amount of backspacing is perfect for this wheel/tire combo as it gives the widest stance possible while keeping the tires tucked underneath the OEM flares.
The Wheels:
I liked the look of these wheels and the weight savings by being aluminum alloy is also a plus. The negatives of these wheels are all based on trail use. For instance, the outer lip where the balancing weights are mounted has been chewed up pretty bad after a dozen or so trail rides. Despite my efforts to prevent this from happening certain things are unavoidable. This lip received most of it's damage from tight squeezes on the trail where rocks made contact with the spinning wheel. This acted like a lathe in that it removed chunks and bent the lip in some places. On a lighter note, other than looking bad the wheel still functions fine. 3 out of 5 of my wheels are have extensive damage to this lip, and the other 2 have minimal damage.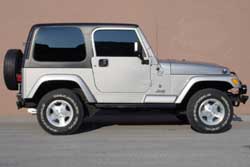 The other down side of the Canyon wheels, or any other cast aluminum alloy wheel, is that they have the tendency to crack if impacted harshly. A cast steel wheel will bend or dent instead of cracking. I have not received any cracks on these wheels but it was always a concern. The only way to get away from the cracking problem is to either buy cast-steel or forged-aluminum wheels. Pricey forged aluminum wheels will react similar to cast steel, but they are much lighter and look more stylish than cast steel ones. So your choice is looks or practicality unless you go with forged.
The Tires: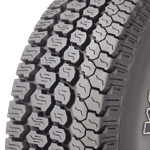 Overall, the 30"×9.50"×15" Goodyear Wrangler GSA set of tires served me well. After putting over 45,000 miles on them there was still over 30% of usable tread left. When on the road the noise was a little more than expected for an all-terrain radial, but bearable. I maintained them at 32-35psi for highway use and no less than 18psi for trail use. I found that anything less than 18psi would allow way too much muck to get into the bead and cause slow leaks. These leaks are of course repairable but cost either more time or money than the small offroad-traction gains I received by going under 18psi.
The tires react expectedly poor in the mud and the closely spaced lugs quickly pack with mud and do not self-clean very well. This makes you a nuisance to the Jeepers with mud-terrains as they always have to wait for you to get through the obstacle or tow your butt out. There really is no way to fix this other than don't get in the mud or to replace them with mud-terrains. The sidewall never caused me any problems from punctures. You could see a few places on the sidewall that came close to puncturing on tree branches and rocks. I would say that I gave these tires a good run for their money and they served me well. I would not buy a set of these if I had a choice though.
---
Tire & Wheel Replacement #1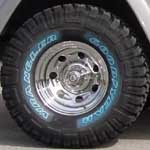 When I reached 40,000 miles on the Wrangler GSA tires, I wanted to start looking for some new tires. I knew I wanted to go with 33"×12.50" tires, and I needed an aggressive tire composed of a rubber compound that would last me at least 35,000 miles. I also knew that with a tire that was 3" wider I would need a new set of wheels or wheel spacers to decrease my backspacing and also wider fender flares to keep my tires tucked neatly under the Jeep. I opted for the Goodyear MT/R 33"×12.50"×15" tire and American Racing Tailgunner 15"×8" wheels. I bought them on sale about 5,000 miles before I planned on the install, so they sat in my garage until I was ready for the install at 45,000 miles.
The Wheels: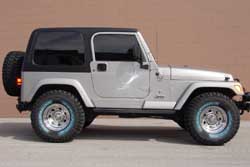 For the wheels, I plan on eventually getting a set of expensive forged aluminum wheels, but to avoid buying them twice I want to wait until I swap to the larger 5.5" on 5 pattern wheel hubs before dropping the cash on forged aluminum. For the time being I wanted something that was very cheap and cast steel. I also took measurements and decided I needed a wheel that had backspacing between 3.75"- 4.25". My options were to either keep the cool looking Canyons and use a set of wheel spacers or to replace the Canyons with a wheel that had the backspacing I needed. I opted for a complete set of wheels for a few reasons: they were only slightly more expensive than a set of spacers, and this allowed me to keep my Canyons safe in storage should I ever wish to restore my Jeep to a factory look someday.
The 15"×8" American Racing (AR) Tailgunner wheel is quite a bit heftier than my alloy Canyons. They have a backspacing of 4.0" and this amount of backspacing works perfect with my 6" Wide Warn Trail Flares. It made it look like my Jeep came from the factory like this which is exactly what I wanted. They have been great on the trail several times and no trouble has arisen yet. They seem to be well balanced and I like the optional AR center caps that I bought. I see these wheels lasting me a really long time. At the time, they cost only a few dollars more than the plain black wagon wheel AR-767's and the chrome plating dresses it up a little. The only downside of these wheels is that since they are chrome they rust rather easily and I have to polish them about every 5,000 miles with chrome polish to keep them from looking like rust colored wheels.
The Tires: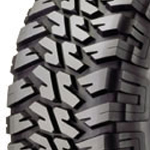 I immediately looked to my favorite company Goodyear, and their only decent option for an offroad tire was the Wrangler MT/R. I compared it to the BF Goodrich MT and found that they each had unique bonuses that the other did not. The main reason I chose the Goodyear MT/R over BFG M/T are:
Has side lugs that reach further towards the center of the tire
Dura Wall™ puncture resistance technology, which helps resist cuts & tears
3-ply sidewall construction and advanced silica compounds for durability
I installed the new tires on the AR Tailgunners and had everything balanced. I was able to go with a 33" tall tire because I already had a 1" body lift and a 2" budget boost to make room for the tire. There wasn't enough room to go full flex on the trail without a ton of tire rubbing on the flares. This was temporary however, since I installed my Rubicon Express 4.5" lift system the next month.
My comments on the MT/R? As of this writing I have 10,000+ miles on this set and they have barely any wear at all. I measure my tread depth each time I rotate the tires and at this point I estimate I will get about 40,000 miles out of this set which is outstanding for trail tires. It should be noted that the MT/R is not designed to be a mud tire, but a rock crawling tire instead. They get full of muck quickly on the trail, but not as bad as the GSAs. Since the lugs are self-cleaning the muck doesn't stay in the tread very long though. I really like the side lugs, they have helped in a few situations already. The road noise from the MT/R is much less than I expected which is a definite bonus since my Jeep is my daily driver. Wet traction is excellent and I have not skidded in rain/snow, but that also has much to do with driving style and knowing the limits of your vehicle. I will probably always have Goodyear MT/Rs mounted on this Jeep or until Goodyear stops making these tires. I highly recommend them!
---
Page created on 6/29/2004
Last updated on 7/8/2004