Bored Out Throttle Body
One of the first items on my list of "mods" was a bored out throttle body (TB). It took me almost 3 years to get one, but it was a lower priority than a lift and bigger tires. I had it narrowed down to either having Jeepers and Creepers bore out my OEM TB, or buying a complete new cast one from Rubicon Express. However when you begin to crunch numbers, J&C's bored out TB runs $110 plus a refundable core charge of $125. The Rubicon Express TB boasts the highest possible flow of any TB available on a Jeep, but the price is $350 with no core charge.
From what I can tell the main difference between the J&C and RE TBs is that RE's is red anodized and comes in a 62MM bore, whereas the J&C has a 60MM bore. Something important to point out is that for an extra charge J&C offers to bore their TB to 62MM if you want to. If you ask for it, J&C also offers something they call "flat-topping" for your TB; more on this later...
I coordinated this install with the removal of my PowerAid TB spacer. The reason I got rid of the PowerAid spacer is because it's actually more restrictive than the OEM air-flow instead of improving OEM flow. The PowerAid opening is 54.27mm (pictured below) and the factory TB is 55.41mm(pictured below); a 2.1% reduction in air-flow. So, if installing a bored out TB like me, you definitely want to get rid of the PowerAid. Conversely for those wanting to keep a TB spacer, J&C does offer to bore out your TB spacer to match their bored TB diameter.
When you order your TB from J&C you have a choice. You can either:
Keep the bored out one sent to you and return yours as the core.
Same as above, but have your original bored and returned to you.
I opted for the latter choice, I am finicky and want my OEM stuff back. So when I got the first shipment I quickly installed the loaner from J&C and dropped my OEM to UPS. Then my OEM was bored out, flat-topped (see picture; even further increases the flow; extra charge) and returned once again to me. I then swapped my bored out original in and sent the loaner back to J&C. It takes about 1-2 weeks once they get your part, so this whole process takes about a month from start to finish, be patient.
Review of Product
I have always heard that with a 2.5L engine, converting to a bored out 4.0L TB makes a world of difference. Since I have the 4.0L engine the improvements were subtler. The 7.72% increase of flow over my OEM TB is nice (9.98%+ if you account for the PowerAid spacer). I was looking forward to removing the PowerAid and thus removing the annoying high-pitched whistle it sometimes made. I'm sad to say that a bored TB also sometimes makes the high-pitched whistle sound, but I got used to that and it is very slight. Power increase? Well, it is really hard to say without a dynamometer test for small gains. While accelerating it did seem that it was a little more 'peppy' in the higher RPM bands and throughout the RPM band in 2nd and 3rd gears. I don't know if this is a placebo effect or not...I REALLY wish I had access to a dyno but I didn't so you'll just have to trust me. I haven't noticed any ill effects, and my fuel efficiency was truly unaffected. I am glad to have this product installed and would recommend it to other Jeepers. The 7.72% increase in air-flow by itself justifies this install. I thank James at J&C for the quick turnaround times on the swapping.
Parts List
Bored out Throttle Body
Replacement throttle body gasket
Instruction manual
Re-Manufacturer's website: Jeepers & Creepers
Tool/Supply List
T-20 Torx Bit for electronic sensor removal
Flathead Screwdriver
Optional: LocTite
The Install
Well, there isn't much to the install, so I will just post the step by step photos I took with a few words by each photo.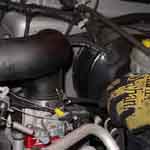 Loosen Intake Tube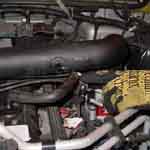 Removing Intake Hoses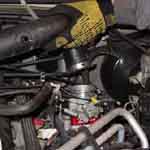 Removing Intake Tube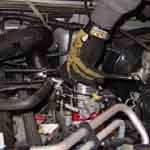 Loosen 4 TB bolts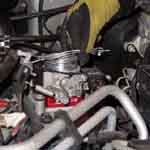 Remove Throttle Cables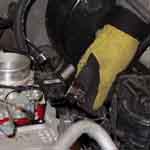 Disconnect Sensors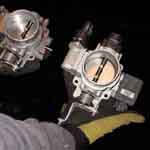 Bored (L) OEM (R)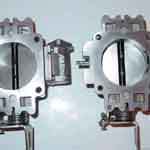 Flattop (L) JC Bored (R)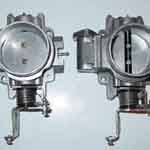 Flattop (L) JC Bored (R)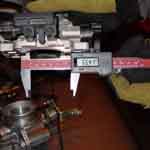 OEM bore = 55.41mm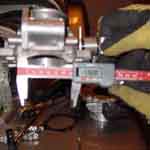 J&C bore = 59.69mm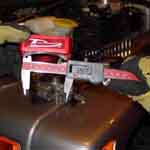 PowerAid = 54.27mm
---
Page created on 2/5/2004
Last updated on 5/5/2004