Skid Row Steering Box Skidplate

I bought this skidplate at the same time I bought my engine skidplate. Since TJ's have a very exposed steering gearbox unlike their leaf-sprung ancestors, I thought it would be a great idea to add some protection before I ruined my gearbox on a rock. As you can see in the photo at right, this skid is beefy and has a 3-bolt installation.
The installation of this product is pretty easy even for a novice mechanic (it took me less than 30 minutes at night, in a gravel parking lot during 20ºF weather). I won't detail my install directions, as Skid Row's instructions were very thorough and straightforward. You can view the scanned in instruction manual HERE (369KB file).
My only advice that is not listed on the instruction sheet is to make sure and torque the frame-to-gearbox bolt to 70 ft/lbs. I have unintentionally banged this skidplate several times on rocks, so it was definitely worth the money spent.
Parts List
Tool/Supply List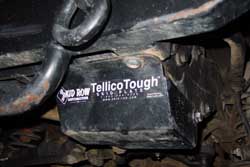 ---
Page created on 10/20/2003
Last updated on 4/27/2004