Teraflex Rear Shock Relocators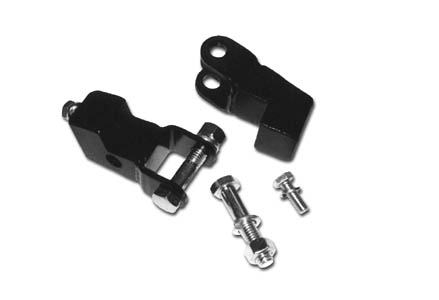 These rear shock-mount relocators install into bottom factory shock mounting brackets. The purpose of installing these mounts is to help restore proper shock positioning. When you lift your Jeep more than 3-4 inches the rear pinion needs to be rotated. This can cause the bottom of the coil spring perch to be rotated to the point where it rubs/damages the canister of the rear shock. A way to halfassedly fix this, is to turn the shock "can up" a.k.a. upside down. Now, many shock manufacturers say it is okay to run the "can up" configuration. The truth of the matter that I have seen from other peoples misfortune is that "can up" will cause the shock-life to dissipate and eventually fail much earlier than it should. It may also cause a leak in the shock.
Back to how to correctly reposition the rear shocks. . .by installing the Teraflex Shock Mounts, you will in fact be shifting the bottom shock mount point about 1" to the rear of the Jeep. This should allow you to avoid using the "can up" method and allow the shocks to work how they were designed.
To quote the Teraflex catalog: "This kit includes two shock mount relocators and mounting hardware. Moving the shock away from spring pads minimizes damage and allows for axle rotation on lifted TJ Wranglers. By reducing damage to shock canisters, the shock mounts increase shock life. Depending on the rotation of the axle housing, the RST can change the length requirements of the shock by as much as one inch."
The installation is very easy, just follow the Teraflex directions, which you can view HERE (171KB file).
Parts List
One pair of Teraflex Rear Shock Relocators for a TJ
Manufacturer's website: Tera Manufacturing
Tool/Supply List
---
Page created on 10/30/2003
Last updated on 4/29/2004