Kilby Gas Tank Skidplate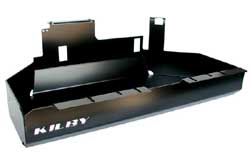 Parts List
Kilby Gas Tank Skidplate, P/N KE-GTSP1-PC for a TJ
Manufacturer's website: Kilby Enterpirses
Tool List
Hammer
Wire cutters or pocket knife
Phillips and flat tip screw drivers
Shop rags, friend, & one 6" zip tie
I ordered my Kilby gas tank skidplate 2 days after I bought my Jeep. At the time, Brad Kilby was only offering these in raw steel, no powder coating or paint option like they are now. They were on backorder, so I didn't get to install the skidplate until 2 months & 4,200 miles later. When I received the skidplate I wiped it down with acetone to remove oils and then I double painted it with primer and then 2 coats of silver paint to match my Jeep. The install was pretty easy, no real surprises that weren't listed in the instructions that came with the skidplate. You will need a bunch of rags to clean up the gas. Even though I relieve the pressure on the fuel system properly, there was still a ton that came out when I disconnected the fuel lines. For this reason, definitely wear eye protection. The installation instruction sheet written by Brad Kilby can by downloaded HERE (12KB file).
I have abused this skidplate quite a bit over the last several years. I have hit it directly with the entire weight of the rear of the Jeep on huge sharp pieces of granite & limestone and not received any more than a scratch on the paint of the skid. No denting, bulging or gouging of the plate has happened. I highly recommend this easy upgrade to any Jeeper that goes on the trail. It is very beefy and the best part about the skid is that you gain about 1" of ground clearance over the stock skid. Other brand gas tank skids decrease the clearance because they are a poor design and/or they bolt over the stock skid.
Below are the pictures I took when I helped Jeff from AllMyNeeds install his skidplate. I have installed 4 of these including my own, I get a little faster at it each time. I have it down to about 75 minutes.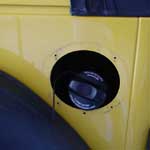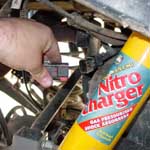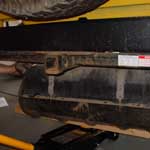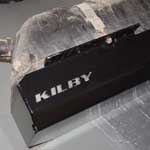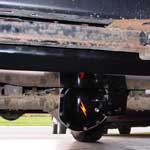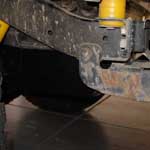 ---
Page created on 7/26/2004
Last updated on 7/27/2004