Warn 6" Wide Trail Flares
I installed these flares the same day I put on my new 33" Goodyear MT/Rs. I wanted to make sure that I did not have to go without flares covering the tires. It's not that my state requires "complete tire coverage" like some nasty places. I didn't want to get rainwater, rocks and mud flipped up as I drove, nor did I want to rub the tires on the flare when I go offroad. I also like the look of the wider flares, it maintains a look like this tire/flare combination came this way from the factory.
I wanted them painted to match the OEM body paint, so I had my friend Zach (bodyshop d00d) take them to work and paint them. He used paint manufactured by the same company that makes the paint for BMW, Mercedes, DC and more imporantly JEEP. So the Silverstone Metallic on the flares is a perfect match the the rest of the Jeep. It is also important to know that if you plan on painting your flares, you need to have a "flex-additive" added to the paint mixture. This prevents the paint from fully curing, therefore it stays flexible and it will move with the polyurethane flare. Without the flex-additive the paint would most likely crack, flake and spider-web when the flare flexes. I also had Zach put a TON of clearcoat on to take the brunt of the abuse on the trail to protect the paint underneath.
The Install
The install is beginner level and only requires a few basic hand tools. That is unless you're unlucky like me and a bolt was overtorqued into the body-nut. Then you need a set of bolt-cutters or a hacksaw (see photo below). I also timed this install for my annual buff/polish/wax the Jeep day, so I was able to clean out the accumulated crud from between the body and the old flares. That alone should help keep my body panels rust free for even longer. The main thing to do is take your time. It took us about 2hrs to do the install.
Things to point out are that Warn officially states that these flares WILL NOT WORK WITH THE SAHARA BODY TRIM PACKAGE. This has been proven incorrect by me as they fit just fine on my TJ (with Sahara trim package) with no body/flare cutting/modification needed at all.
Tool/Supply List
Rags/wax to wipe off the crud between body/flare
OEM matching paint, flex-additve, clearcoat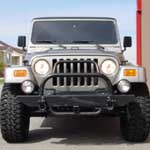 Old flares front view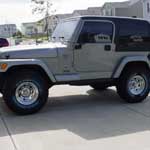 Old flares left view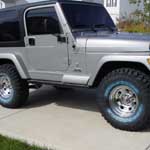 Old flares right view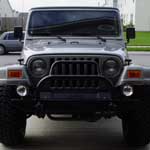 New flares front view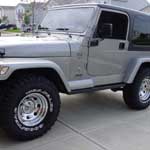 New flares left view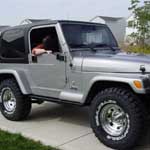 New flares right view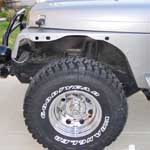 Front left missing flare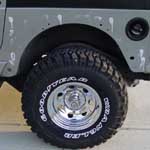 Rear left w/o flare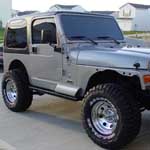 Right side no flares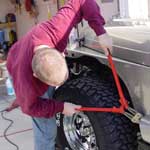 Cutting off stuck bolt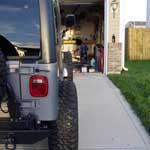 Tires sticking WAY out
---
Page created on 10/30/2003
Last updated on 4/26/2004